The Exhibition
20 May to 26 November 2023 at Palazzo Bembo, Palazzo Mora and Marinaressa Gardens
The European Cultural Centre (ECC) cordially invites architects, artists, academic institutions, and creative professionals from around the world, encompassing various disciplines, to delve into the profound subjects of Time, Space, and Existence.

With the intention of fostering inspiration and innovation, the ECC has curated this exhibition as an inclusive and dynamic platform—an imaginative laboratory. It is the ECCs sincere hope that this endeavour will stimulate novel ideas and fresh perspectives on the ways in which we shape and experience life on our planet.


> To the TIME SPACE EXISTENCE website of the ECC
People Flow – A wayfinder's perspective
As Moniteurs, we proudly showcase our People Flow model as a contribution to the Time Space Existence exhibition at Palazzo Bembo. An architectural model represents a building. Our model, creates an image of foreseeable possibilities for moving through built space.
We open up a building, take a look inside and show something that usually remains invisible, namely the shape of potential movement within. How will people navigate their way through? What direction will they take? If different modes of transport are available, which one will they choose?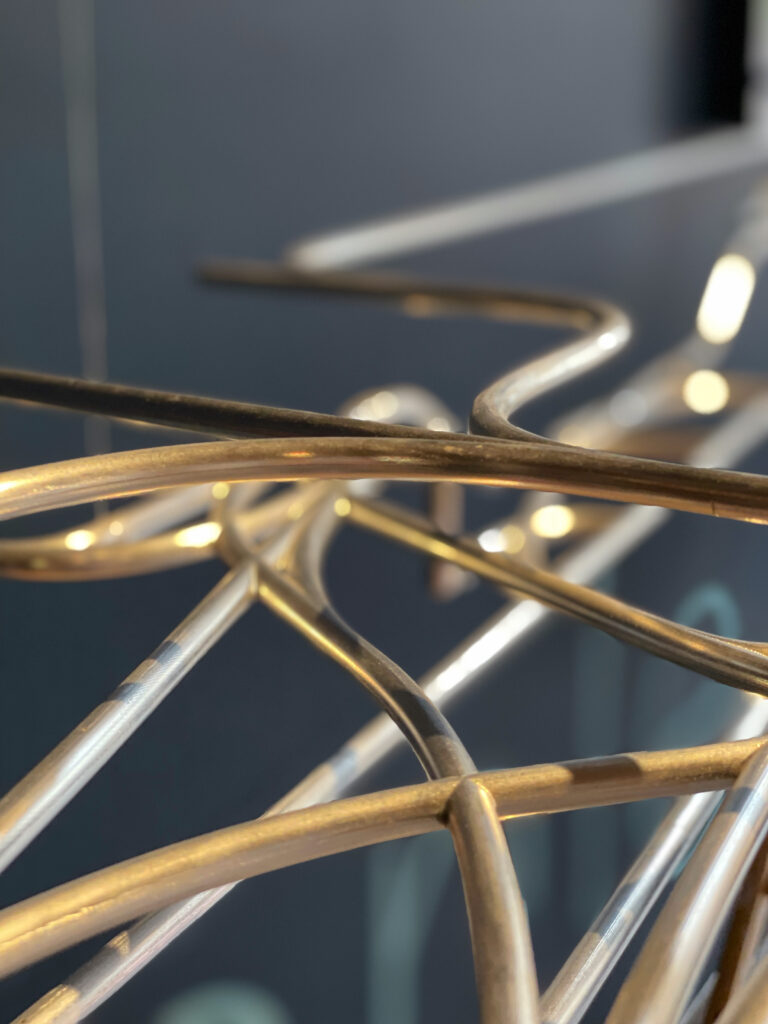 Our three-dimensional People Flow model conveys a variety of potential paths through a typical European urban transport hub. The result is a 3D representation that embodies the sum of diverse routes and movements in one frozen image.

People Flow takes an out-of-the-ordinary approach to portraying and understanding foreseeable paths through built space. In doing so, our model reveals an invisible world full of movement. At the very least, it also provides Biennale visitors with the opportunity to encounter and appreciate space from the wayfinder's perspective.
As wayfinding specialists, we are always eager to understand and positively influence how people move through built environments. The clarity and effectiveness of the signs, symbols, pictograms and colours that comprise wayfinding systems determines whether individuals are able to orient themselves and choose the best path to get from one point to the next.
Faced with a complexity of routes and choices, people rely on effective wayfinding systems to give them seamless orientation and flow. The ease with which we navigate our way through a bustling public transport hub, for example, is not only key to our experience of that space, it is also essential to the proper functioning of the entire intermodal environment. In this sense, effective wayfinding can contribute to reductions in a city's carbon footprint, especially by boosting the efficiency, attractiveness and usage of public transport.
Our People Flow model takes a more abstract approach, capturing foreseeable routes and rendering them in an artificial 3D form. By exploring the patterns of these otherwise invisible worlds of movement in this manner, we gain new insights that we're delighted to share with the visitors of this year's Biennale.
Ideas, support and the incredible work that makes this exhibition happen is done by:
Concept
Sibylle Schlaich and Heike Nehl
Communication
Heike Scheller
3D-Modell Manufacturing
Andreas Nehl and Jannik Nehl, Felix Brandl
Simulation
Marwin Nehl and Peter Arnold
Videos
Lele Schlaich, Wolfgang Scholz, Tim Waleschkowski, Suki Su, Joe Crossen
Exhibition Graphic
Julia Rommel, Anna König
Website Coding and Design
Anna König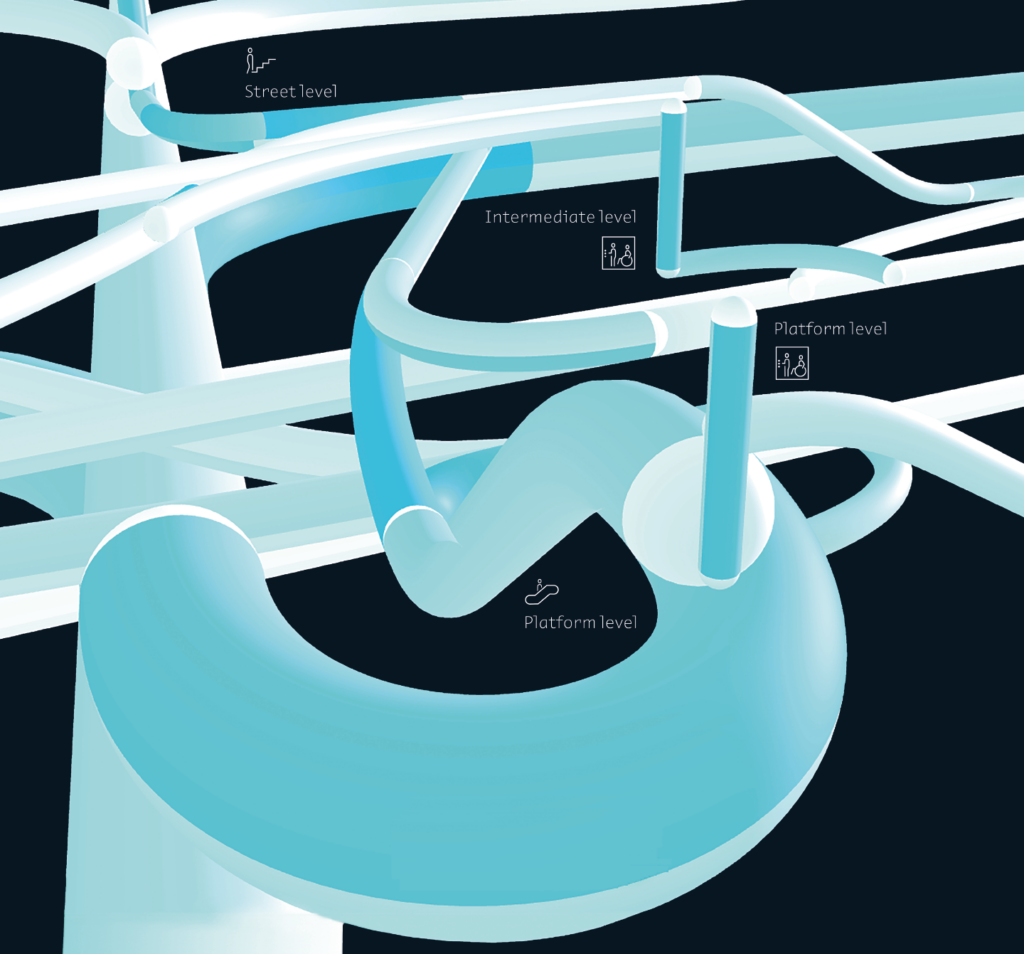 About Moniteurs
Moniteurs is a design company based in Berlin, founded in 1994. With our interdisciplinary team of designers we are working in the field of wayfinding, information design, UX-design and corporate design. Especially in the field of wayfinding we have acquired wide knowledge and expertise.
It is not only the design of the signage that fascinates us, but also the creation of a contemporary design system and a functional information architecture to enhance the customer experience.
Our experiences and our networks of programming, evaluation and production enrich us, and we use the various facets and knowledge gained from our years of experience to increase the effectiveness of our work. At the same time, many things are in a state of con­ tinuous change, and so development and change are naturally a part of our work, allowing innovative solutions to arise.
Architects and People Flow

Juliane Wolf, Studio Gang, Chicago, USA
_ INTERVIEW



Juliane Wolf is Design Principal and Partner at Studio Gang. The architecture and urban design practice, founded and led by Jeanne Gang, is based in Chicago with offices in New York, San Francisco, and Paris.

In the interview Juliane talked about aspects of people flow being part of the architectual design process.



Orientate and interact

Wolfgang Scholz, Moniteurs, Berlin, Germany
_ HAPPENING



Wolfgang Scholz

Orientate together by finding words from disorganised letters. As shown in the exhibition model, the wayfinding directs people along specific paths. The initially chaotic flow of movement are ordered and at the same time structured in the space.
The happening attempted to make this process tangible in a playful way and to bring about this directional order in space, representative for orientation.

Flowing Around the World

Theo Deutinger, TD The Department, Flachau, Austria
_ LECTURE



Theo Deutinger

The talk will focus on the past 500 years of human action on planet earth. This is the time from the first documented circumnavigation of planet earth to the now and here – the time from discovering the spherical space we inhabit till the time we endanger exactly this discovery. Together we can discuss about today's global flow of goods, people and information as part of the system of the new international division of labor (NIDL). A system that benefits largely from cheap fossil fuel and global inequalities in political rights and income.

Flow ScARf

Feia Nehl, Architecture, Lele Schlaich Interfacedesign, Berlin, Germany
_ AR EXPERIENCE



Feia Nehl and Lele Schlaich

Discover, explore and don't miss the chance to bring home our scarf, which is exclusively designed for this event.

Immerse yourself in our scARf experience, interpreting "flow" in a new way and dimension. Explore the digital and analog fusion as our self-designed scarves bring 3D animations to life through your smartphone with augmented reality.

Understanding Human Flows

Nicola Moczek, Riklef Rambow, Psy:Plan, Berlin, Germany
_ FISHBOWL



Centuries-old seafaring routes and marine signs, campaniles and towers as beacons, small and large squares as a stage, paths and trails through a complex labyrinth: using Venice as an example, we will explore psychological aspects of people flow and share experiences with our guests.